Water is a fundamental need that everybody should have access to, given that most of the human body is water-based. The water you consume contributes significantly to your overall health, and the vice versa is true. Water is mostly harnessed from the underground and collects many minerals on its way to the plumbing system. While most of the minerals are harmless, there are others like scale build-up that only bring problems to you and your hardware appliances. Also, unprocessed minerals like magnesium and calcium are harmful to your health and can cause damage to many of your appliances.
Having fresh drinkable water in your household is crucial to everyone in the house. Unlike reverse osmosis filter systems, under sink water filter systems are more efficient, given that they don't produce wastewater. These systems can safely remove contaminants from water that was previously done via reverse osmosis systems.
The Best Under Sink Reverse Osmosis Filtration Systems We Tested
Pelican is one of the top brands in the industry for good reason, their products are of the highest quality available, compact and easy to maintain with direct from manufacturer pricing that makes it a tough choice to top.
Pros:
Quality
Price
Support
Maintenance
Made in the USA
Compact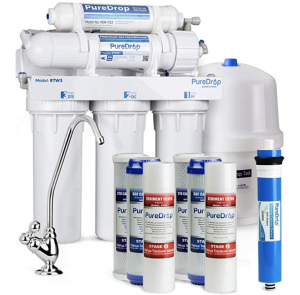 This BPA free device has a 5-stage filtration system that gets rid of 99 percent contaminants that include contaminants such as arsenic, fluoride, bacteria, etc., all in compliance with FDA standards for the safest use. Consumers can get up to 50 gallons of drinking water per day without the use of electricity, and the PureDrop fits neatly under kitchen sinks, set out of the way. The system includes all the parts needed for assembly, and it is easy to install. It also consists of a replacement kit.
Pros:
Rejects 99 percent of contaminants
50 gallons of drinking water per day
Neatly fits under kitchen sinks
Complimentary replacement kit included
BPA free
Complies with FDA standards
Everything included for installation
Con:
Installation may be harder than expected
 

During the reverse osmosis process with the Home Master system, calcium and magnesium are restored, which produces pure mineral water. With this system, 98 percent of contaminants, such as chemicals, sediment, and heavy metals, are removed. Assembly is fast and easy with an all-in-one modular. Filter only has to be changed once a year or every 2000 gallons. No tools are required for assembly. A Fast Flow RO Kit is included that is designed to produce fast-flowing water that fills your cup fast. This is a popular alternative to the top-selling alkalized water machine by Tyent. This is a unique component that is not found on most reverse osmosis systems.
Pros:
Restores natural calcium and magnesium
Removes 98 percent of contaminants
All-in-one modular
Easy to assemble with no tools required
Long-lasting filter
Fast Flow RO Kit included
Con:
Installation may be harder than expected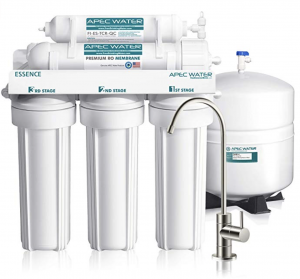 The APEC system comes from the USA, and its technology removes up to 99 percent of contaminants, including heavy metals, chlorine, lead, arsenic, and more. The system holds up to 50 gallons per day with long-lasting filters, and it includes a 100 percent lead-free designer faucet and tubing and parts that are FDA certified. The system comes with an instructional video to make installation easier, and it includes a two-year warranty.
Pros:
Put together entirely in the USA
Removes 99 percent of contaminants
50 gallons of water per day
Long-lasting filter
Comes with a 100 percent -year lead-free designer faucet Parts and tubing are FDA certified
Instructional video
Two-year warranty
Con:
Installation may be harder than expected