Best Alkaline Water Filters
Alkaline water has been growing in popularity because more and more people are getting informed about the many benefits it can offer. However, to get the most out of alkaline water, your water needs to be purified. This is where an alkaline water filtration system comes into play. When you are looking to purchase an alkaline water machine, you want to be certain you are getting the right one. Depending on your use-case, you will want to ensure that you are purchasing the one that will deliver the best results. Below, we will be going over some of the best alkaline water filters you can find available.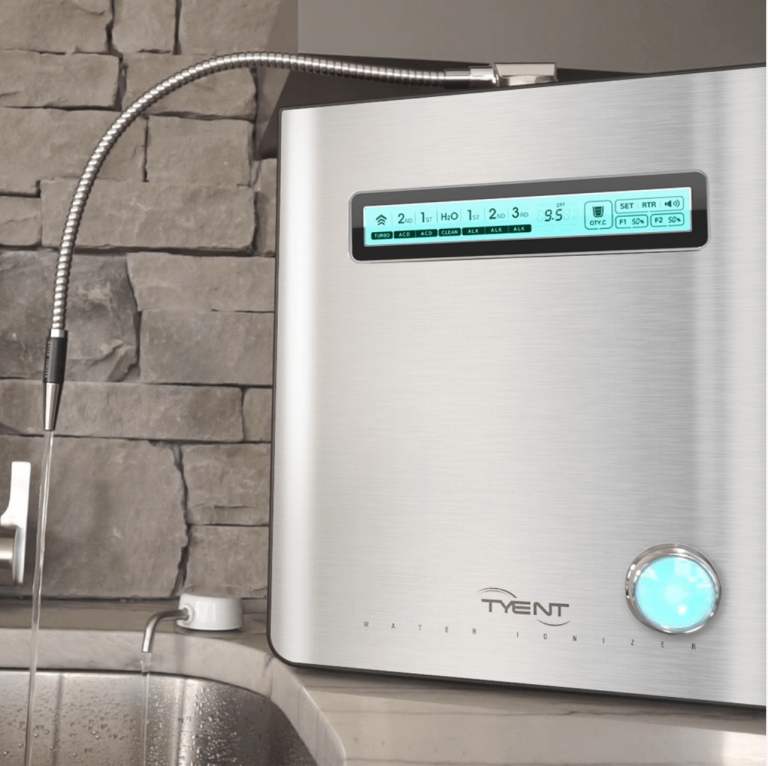 View Current Price
This is a 9 plate water ionizer offered by Tyent. This is a good option for those that are looking for an alkaline water filtration system with an excellent performance to value ratio. It has a lot of the features that you will find on Tyent's more expensive models which make it a joy to use. This includes things like a color touchscreen, a JOG dial, and Tyent's Easy Load front door filtration replacement system. The unit features a stainless steel front making it fit right in with a modern kitchen aesthetic.
The unit has dual filtration which ensures that you are getting the purest water with the ability to filter down to .01 microns.
Pros:
Value: This is one of Tyent's most affordable models and you aren't sacrificing much in terms of features and performance.
Features: You are getting all kinds of quality of life features like Easy Load filter replacement, turbo function, and an automatic water controlling valve for easy fills.
Cons:
Larger Footprint: This is one of the larger models which can take up more space in the kitchen.
View Current Price
This is one of the best values you will find on the entire market. The ACE-11 can be situated on the counter as it features a gorgeous stainless steel design that will fit right into your kitchen. The unit itself is fairly slim which allows it to take up as little counter space as possible. In fact, it allows you to save as much as 275 cubic inches of counter space over some of the competing products on the market. Because the unit offers a center-mounted dispensing column, it offers a lot more flexibility and versatility when it comes to installation options.
The unit also happens to come with Tyent's very own Easy Load filters which helps to make the swapping of filters as convenient and fast as possible. Best of all, the system has an easy to read display which will let you know when the filters need to be replaced. The filtration of this unit is no slouch. It features dual filters ultra filtration at .01 Micron.
Pros:
Compact: This unit is designed to take up as little countertop space as possible. This makes it a relatively compact filtration system that will offer you purified alkaline water without getting in the way.
Performance: This unit is capable of offering four different alkaline levels and three different acidity levels with filtration capable of removing impurities at .01 microns.
Automatic Self Cleaning: Having a filtration system that is capable of automatic self-cleaning can make your life easier.
Cons:
Price: As with all of Tyent's high-quality products, the machine is expensive.
View Current Price
The UCE-11 is the other 11-plate water ionizer offered by Tyent. This product features a very innovative design with a display inspired by modern smartphones. The display offers a very user-friendly user interface with the ability to conveniently choose from the three different alkaline levels and 3 different acidic levels. The design is very streamlined and it was purposefully designed to fit easily within a modern kitchen with stainless steel appliances and faucets.
This alkaline water filtration system features hydrogen boost technology in order to provide the water with the most antioxidant content. The plate material is made up of a solid and mesh hybrid with strengthened titanium plates that have been dipped multiple times in platinum for the purest quality.
The included dual filter ultra-filtration system is capable of filtering out impurities and sediment as little as .01 micron.
Pros:
Streamlined Design: The entire design from the materials to the build quality and the integration of the smartphone inspired interface make this a joy to look at and use.
Excellent Performance: The water filter is capable of filtering at .01 micron which helps it remove over 200 contaminants. It also features hydrogen boost technology which is a major advantage over a lot of the competing products on the market.
Cons:
Price: This product offers exceptional value but it is expensive.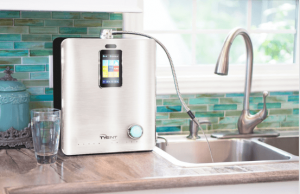 View Current Price
This 13 plate water ionizer might be larger, but it features even more impressive performance than the smaller models while maintaining a slim design. This unit features 13 solid and mesh hybrid plates with a capable water outflow of up to 2 liters per minute. It features a dual-stage filtration system with the first being a carbon block and the second being a UF ceramic filter. This system is capable of offering a filtration capacity at .01 microns. The ACE-13, like the other models in Tyent's line, is very aesthetically pleasing. It features a very premium stainless steel finish and it would fit well in any modern kitchen because of it.
This unit retains a lot of the must-have features on the smaller model including the industry's largest touchscreen for easy operation, auto-fill quantity selector, a JOG dial for easy control, and easy load front door opening for quick and convenient filter changes.
Pros:
Quality Of Life Features: This unit features Tyent's very own Easy Load feature which makes it easy to swap out filters. It features a motion-activated flow sensor for hands-free operation. It features an upgraded drain faucet. Everything about this unit is designed to make experiencing the benefits of filtered and alkaline water easier than ever before.
Premium Design: You can tell Tyent designed this unit to be installed and used in high-end and premium looking kitchens.
Cons:
Expensive: This unit is expensive, but the performance and the quality of life features make it worth it.
View Current Price
This is Tyent's most expensive model, but also one of it's best. It is the first-ever alkaline hydrogen hybrid water ionizer which allows you to choose any type of water you want with the press of a button. It features the same convenient and easy to use touchscreen you would expect from Tyent. The model is available in a sleek black and stainless steel combination making it look aesthetically pleasing and meant for a premium kitchen. Likewise, it features a powerful dual filtration system using both a carbon clock and TM-ceramic filter to offer best-in-class filtration with easy front-load filter replacement.
Pros:
Sleek: This is easily one of Tyent's sleekest looking systems.
Hybrid Technology: You are getting the best of both worlds with this system. It offers unrivaled technology that you simply cannot find elsewhere on the market.
Features: This unit is packed with featuring including Easy Load filter replacement, touchscreen operation, a JOG dial, and more.
Cons:
Expensive: This is Tyent's most expensive model, but it also happens to be it's most capable.