Best Alkaline Water Machines
Alkaline water has dominated drinking water in homes today for many reasons, the most popular ones being its good taste and health benefits. Alkaline water is packed with antioxidants which relieve stress, rid the body toxins, therefore, give clearer skin, boosts the immune system, helps in boosting metabolism hence come in handy in weight loss, and finally, has anti-aging properties thanks to the antioxidants which fight free radicals, known to fuel the aging process.
For these and many other reasons, every home consuming tap water, and even those purchasing bottled water should adopt a water ionizing machine, which increases the pH of water, thereby making it alkaline. This will not only save the earth of non-biodegradable plastics, but it will also yield better sleep, radiant skin ad overall body health.
When it comes to choosing an ionizing machine, here are the top five options to go for:
View Current Price
This is an under-counter water ionizing machine that measures 14in (W) x 5-3/8in (D) x 14in (H). It uses smart intelligence systems in a user-friendly interface to key in the desired type of water on am LCD screen. This allows a user to choose from an impressive 55 different power consumption settings to adjust the amount of energy it consumes as well as 3 levels of alkalinity and acidity, giving users the option of slowly easing into drinking alkaline water to avoid a taste bud shock, which may be uncomfortable. Not only can the pH but also antioxidant levels as per the desired preference.
As the name suggests, this machine uses the Titanium Mesh(TM) filtration mode and has 11 plates to ionize (add molecular hydrogen) water make it revolutionary as a water softening and purifying machine. These plates are made of a mesh that is made sturdier by the addition of platinum and titanium. Furthermore, each of these plates has a maximum amperage which ensures ample power supply to yield unmatched efficiency and the highest capable level of antioxidants. It can literally take the pH from as low as 2 to 12!
It is also automated, possessing the shut-off feature that allows a user to leave the ionizer unattended without the fear of floods. Whatever the source of the water, be it underground water from aquifers of surface water gotten from ponds and rivers, the UCE-11 plate Turbo can yield clean water sufficient for making baby formula, cooking, and drinking. It also comes in a sleek metallic finish, blending in with other kitchen appliances easily.
When looking for cutting edge ultrafiltration and aesthetics, it's the ultimate choice. It gives chemical-free water that is safe, durable, and healthy to the body.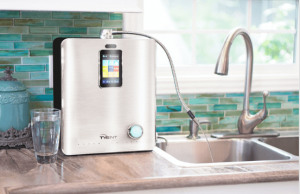 View Current Price
This one is yet an improved version of the former, and instead of 11 has 13 solid mesh plates dipped and baked in titanium and platinum for ionization. This increases the surface area for water ionization as well as makes the machine more durable than the former. It is used above the counter and consumes 10 amperes of power, using electrolysis to infuse hydrogen into water.
When it comes to structural dimensions, it is 300W x 135D x 350Hand and is 5kgs heavy. It is also operated on a TFT LCD user-friendly touchscreen that is 4" wide. It gives both acidic and alkaline water outputs and as an improved version, can give up to 99 presets per level. The power settings allow 1 Turbo, 1 Neutral, 3 acidic, and 4 alkalines. It can take water from a pH level of an impressive 1.7 to 12!
It filters water through the use of an ultrafiltration 0.1-micron alkaline water filter and has an automatic flood prevention sensor just like the UCE-11 Plate Turbo. To top on all this, it is also self-cleaning. This ionizing machine is perfect for homes that require highly conductive hybrid plates for additional strength, durability, and efficiency in electrolysis.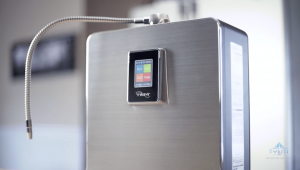 View Current Price
Yet another phenomenal invention by Tyent, USA, this one measures 11.8in (W) x 5.3in (D) x 13.9in (H) and is 5.6kg heavy. Power consumption can be adjusted up to 99 levels and it purifies water through the TM filtration mode as well. It is also capable of taking water from a pH of 2 to 12 and uses the intelligent display system. It is also an above-Counter extreme water ionizer.
First, of a kind, the ACE-11 Plate Turbo, comes with a hydrogen boost, giving a paramount number of antioxidants in water with the 11 plates giving just the right amount of amperage to facilitate ionization. The Turbo mode in this one allows users to change the pH as per desired levels for different domestic uses.
In appearance, it is a slim smart design that will also complement other kitchen appliances and can be mounted anywhere using a center-mounted dispensing column. It alerts users of the need to change filters when the time comes eliminating the need for inspection.
It is perfect for clients looking for the extra boost of the healthiest alkaline water there is, along with a sleek finish for their homes.
View Current Price
It comes with 9 solid mesh hybrid plates made of platinum and titanium, which are evidently less than the ACE-13 and 11 series discussed before, making it less efficient but none-the-less an excellent performer in the industry. Its dimensions are 12 in (W) x 5.5 in (D) x 14 in (H) and is 5kgs heavy and it consumes a maximum of 8 amperes power.
This machine uses the Dual .01 Micron removable Filters for filtration and has an automated water controlling valve as well. When it comes to the controls, they are displayed on a colorful smart screen, allowing users to change the acidity, pH, and alkaline levels.
In appearance, it comes with an illuminated LED screen, stainless steel front panel, and is powered by the SMPS electrical system. This filter is the most affordable of them all, making it a go-to option for users looking for a budget-friendly machine.
View Current Price
Last but not least is the New Alkaline H2 Hybrid Ionizer. It is one of a kind and has been named the world's first alkaline and hydrogen water generator. It has 11 hybrid solid mesh platinum and titanium plates. With the improved filtration system and hydrogen boost, this system gives users the option of choosing between acid, alkaline, hydrogen, and neutral water!
It is truly an unrivaled ionizing machine from Tyent and has a spout located at the middle as well as an LCD smart touch screen for control. This system is effective for additional hydrogen in water, adding o the benefits of alkaline water.
Where To Buy an Alkaline Water Machine
We always suggest buying direct from manufacturer and highly suggest Tyent as they are one of the oldest most reputable companies in the industry with outstanding customer service.
In conclusion:
All the above machines transform drinking and household water by passing an electric current through the water which splits hydrogen and oxygen particles, to siphon off differing ion contents and finally gives more antioxidant levels. It makes water alkaline to levels not found in regular tap water. The higher the number of plates, the more effective the system, and with a hydrogen boost, the antioxidants are even taken a notch higher. With this knowledge, clients can now make an informed choice! Choose alkaline water, choose longevity!