Whirlpool Whole House Water Filter Systems Reviewed
Are you on the market for a Whirlpool whole house water filter? If so, you have many to choose from, but there are three that standout of the crowd. Below are reviews of the a few whole house water filters from Whirlpool. Afterwards, you can decide which filter you should buy.
The first whole house water filter worth buying is the WHESFC Pro Series Hybrid by Whirlpool. It's packed with great features and benefits. Here's our brief review of the filter:
This water filter system is a bargain, especially since it is a 2-in-1 system that removes both harmful contaminates and hard water minerals. Besides that, it has a grain capacity of 31,000 and it has a 3 PPM iron removal rating. Furthermore, it is NSF certified to reduce the taste of chlorine, lead, odor from water and reduce sediment in water.
Another benefit of the WHESFC Pro Series Hybrid is it does not require replacing its filter. Every 14 days, the system cleans its own filter. Simply follow the instructions to install and set up the system and you're good to go.
The filter is also well-designed, built solid and very reliable. It is equipped with regeneration technology, which means your water will become soft shortly after you turn on your taps. Think of it as an on-demand system, meaning it works as soon as you start using it.
This Whirlpool whole house water filter is affordable. It is effective and will provide you with very soft water. It is easy to install, but some users who have never used a whole house water filter may struggle a little bit with installing it. Other than that, there's nothing bad that can be said about the Whirlpool WHESFC Pro Series Hybrid filter.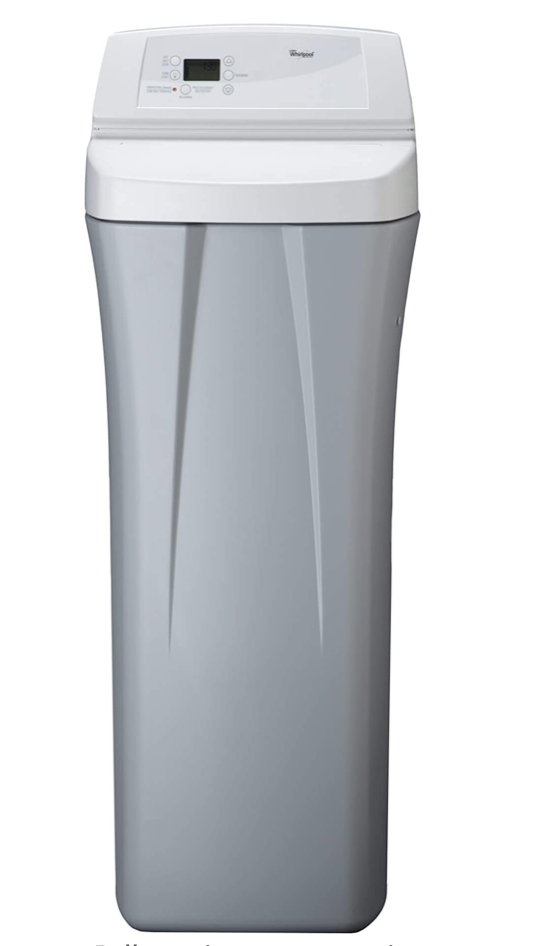 View Current Price
The second Whirlpool whole house water filter on our list is the WHES40E. Here's the pros, the cons and our final verdict on it:
The Pros: This whole house water filter does an amazing job at softening and it's perfect for families of up to six people, maybe a bit more than that. By using this 40,000 grain softener, you will remove mineral stains, as well as use less washing detergent. Not only that, but your hair and skin will feel better, softer and look healthier.
Another unique feature is that the system will only regenerate when necessary. When your water hardness reaches a certain point, then your system will regenerate. In turn, you'll save both water and salt. You won't have to worry about wasting water when it's not necessary, and this isn't the case with other whole house water filtering systems.
Let's not forget to mention the warranty. It is covered by a parts/labor warranty of one-year. However, you do have the option of extending it. This should give you peace of mind knowing you are purchasing a quality whole house water filter that will get the job done every single time it's used.
The Cons: There's only one potential con, and that is there's a chance you might not be able to install the WHES40E yourself. If this is the case, you'll have to hire a plumber.
Final Verdict: This is another great whole house water filter. Our final verdict is it's a bargain and you can buy it for under $600, and it is easy to use. It's even ideal for those with households of up to six people.
Asides from potentially needing to hire a plumber to install the WHES40E, there's nothing bad about this filter. If you decide to hire a plumber, do a bit of research and request several estimates. Then you can hire the one you feel will do the best job installing Whirlpool WHES40E.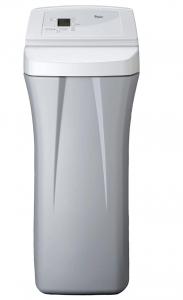 The Whirlpool WHES30E is number three on our list. Here are its pros and cons:
The Pros: There are many things we like about this water filtering system, such as it's designed well and has a compact build. It has a solid build, so it will last a longtime, and it requires virtually no maintenance. Simply install it and you're good to go.
The Whirlpool-WHES30E is efficient and works extremely well. It's designed in a way that saves you cash on salt. If that wasn't impressive enough, it's worth pointing out that it's equipped with a touch interface. It is very beginner-friendly, but powerful and advanced enough for those who want a high quality water filtering system for their home.
Another good thing is it's ideal for homes that have a family of between one and four. If you and your family want to use water that is soft and will leave your skin and hair feeling better, then this filtering system is for you. It easily, quickly and efficiently filters water.
It comes with a warranty too. If you have any issues with it, and the warranty has lapsed, then you can call customer service. They'll let you know whether or not your problem is covered by the warranty.
The Cons: The tank has limited capacity. Other than that, there's nothing negative to say about the Whirlpool WHES30E. Setting it up might be a challenge for some people, but most people shouldn't have a problem with installation.
If you're on the market for a quality water filtering system, then look no further than the WHES30E. As you can see from the above, it is easily one of the best whole house water filter systems out there today.
All you have to do now is decide which Whirlpool whole house water filter you should buy. Each of those three have their own set of benefits and features. Determine which one you think will suit your home and your needs the most, and then you can make your purchase.