What is Oxygenated Water?
At this point in time where the benefits of healthy living are the epitome of attention, everyone has probably heard or come across the term oxygenated water. This is a relatively new kind of water that has additional oxygen to it unlike normal levels of tap and bottled water. Oxygenated water has innumerable health benefits, the most notable ones being flushing out tokens, boosting metabolism, relieving stress, and many other benefits that will be discussed here.
How To Make Oxygenated Water
Oxygenated water is made through electrolysis of water using an ionizing machine. At this point, water that is made of oxygen and hydrogen molecules is broken down into H+ ions and OH- Hydroxyl ions, normally present in a balance to make H20(water). When passed through an ionizing machine, the hydrogen ions are reduced, while the Hydroxyl ions remain in a higher number, making the water have more Oxygen atoms in it. Besides this, retaining more hydroxyl ions also results in higher pH value, making the water alkaline.
Shop For Alkaline Water Ionizers Online
Buy Direct From Manufacturer Today!
Oxygenated Water Machine
Oxygenated alkaline water machines transform the quality of household and drinking water using an electric current, as well as a filtration system that purifies water. As previously stated, this is done through the use of ionizing machines also known as oxygenated water machines. The top five notable machines that give clean, clear, and oxygenated water which could be spotted by the number of bubbles it gives when put in a glass will be explored next.
View Current Price
One of the most common oxygenated water machines is the UCE-11 Plate Turbo. It is an under-counter oxygenation machine that comes in a stainless metallic finish that contains 11 solid mesh plates in it. These are coated with platinum and titanium, for high electrical conductivity therefore the efficiency of the ionizing process discussed before. It is 14in (W) x 5-3/8in (D) x 14in (H) in size and allows power consumption to be adjusted in 55 different options.
When it comes to changing the in-built controls, this machine uses a smart LCD touchscreen that has a user-friendly interface. It allows users to change the level of acidity and alkalinity up to 3 options. When it comes to filtration, the machine does this using a titanium filter that is removable after use over a long time. Furthermore, the oxygenation machine can be left on without the need for scrutinization since it will automatically switch off when water reaches the desired levels to avoid flooding.
View Current Price
Another renowned water oxygenation machine is the NEW – Edge Water Ionizer – 9000T. Unlike the former, this one has 9 platinum/titanium solid mech plates but is just as effective. It is 5Kgs heavy and measures 12 in (W) x 5.5 in (D) x 14 in (H). When it comes to power consumption, it consumes 8amperes of electricity and infiltration uses a dual .01 Micron removable filters.
This ionizing machines also have a control valve to prevent flooding so they could be left unattended and finally are controlled using a multi-colored touch screen where users could adjust the alkalinity and acidity of water. It also has a stainless-steel front panel, and of all the oxygenation machine is the most pocket-friendly one.
The Alkaline H2 Hybrid Ionizer is a new ionizing machine in the market and as the name suggests, it adds additional hydrogen boosts to water, making it even more alkaline. It gives both alkaline and hydrogen, using an 11-plate hybrid mesh made of platinum and titanium. With the hydrogen generator options, it adds the options of the desired kind of water. This is to say users can now choose between hydrogen, alkaline, acidic, and even neutral water which is adjustable using an LCD SmartScreen as well.
View Current Price
An outstanding performer is the ACE-11 Plate Turbo with Hydrogen Boost, manufactured by Tyent, USA. It is an above counter water ionizer and is unmatched, coming with 99 power consumption adjustable levels. This machine weighs 5.6 kgs and is 11.8in (W) x 5.3in (D) x 13.9in (H) in size. Just like the previous ionizer, it adds an extra hydrogen boost, giving multiple options and increasing the number of antioxidants found in water.
Antioxidants are actually the ones responsible for the health boost mentioned before, therefore the 11-platinum/titanium coated solid mesh yields highly effective alkaline water. It could take water from a pH of 2 to 12, allowing users to adjust the pH levels based on the household activities they would like to use the water for.
When it comes to filtration, this system uses the TM filtration mode as well making it perfect for oxygenation, alkalinization, and purification. It also has an automated flood control valve, so it could be left unattended. Outwardly, it has a metallic slim smart finish that makes it blend well with other household appliances. The system of this ionizer is extremely intelligent and will automatically alert a user when the alkaline water filters need to be changed.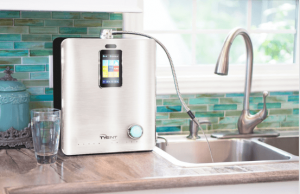 View Current Price
Last but without a doubt not least is the premium ACE-13 Above-Counter Extreme Water Ionizer. It is perhaps the best ionizing machine of the three, coming with 12 solid mesh plates coated with platinum and titanium. The 13 plates increase the amount of area that water comes into contact with, fuelling oxygenation. These consume 10 amperes of electricity to give both acidic and alkaline water and also make this system the most durable and strong of them all.
It is 5Kgs heavy and measures 300W x 135D x 350H and uses a 4-inch wide TFT screen for control. Just like the previous machine, it has 99 different power pre-sets which allow different settings of water output. These are neutral, acidic, alkaline, and turbo options. When it comes to filtration, it uses the ultrafiltration 0.1-micron filter and is smart in that it has an automated flood detection and self-cleaning mechanism.
Oxygenated Water Benefits
The potential benefits of oxygenated water are innumerable, to say the least. It boosts exercise by supplying more oxygen to the blood, allowing the person working out or running to push themselves further. It also enhances body metabolism which leads to weight loss, and improved digestion, therefore no bloating and constipation. By flushing out toxins and helping in cell repair, oxygenated water also boosts the immune system. Finally, it improves alcohol metabolism which requires high amounts of oxygen.
Lack of enough oxygen in the blood has medically been associate with increased blood pressure, loss of mental coordination, fatigue, headaches, and breath shortness. To make oxygenated water, simply choose the machine that suits desired specifications from the 5 above, which are the ultimate choices in the industry. These can be found at the Tyent website, a renowned and trusted water alkalinization expert. Simply contact the manufacturer directly at https://www.tyentusa.com/products/