Having a faucet water filter installed can be very convenient. Not only will it give you quick and easy access to cleaner water, but the water will taste better along with it. However, not every faucet water filter is created equal. Below, we will be reviewing the best faucet water filter options on the market today.

This particular filter attaches easily to your sink faucet head which allows for convenient usage. It has an LED indicator that will display whether or not the filter requires a replacement.
Performance
This filter is certified to reduce or remove over 70 different contaminants and 99 percent of lead. Therefore, you can rest easy knowing that you are getting adequate performance out of your faucet unit. This unit features MAXION filter technology which is what separates this filter from the rest. This technology leverages activated carbon and ion exchange in order to reduce the number of contaminants found in the water. The filter takes the water through a 3-stage filtration process which guarantees clean and fresh tasting water.
How Much Does It Filter?
This faucet filter is capable of filtering 100 gallons of water prior to needing a replacement. Therefore, you will get ample usage out of it. Typically it will last anywhere from 2 to 3 months.
Easy Installation
Unlike some of the other options, they make this faucet filter very easy to install. In fact, it requires no tools at all. Simply twist off the cover and insert the filter, remove the aerator and washer from your faucet and attach the device to it.
This is another outstanding faucet filter that will deliver the kind of filtration you expect. One of the unique things about this attachment is its small form factor. It offers a toolless installation and offers a switch to convert the flow from filtered to unfiltered by pulling the diverter valve stem.
Performance
This is an NSF certified filter that is capable of improving taste, reducing chlorine, reducing lead, and more. It is also capable of reducing cryptosporidium, giardia cysts, and other contaminants.
How Much Does It Filter?
This unit is capable of filtering around 200 gallons or for 2 months of usage.
Easy Installation
This is another tool-free faucet filter that can be installed in mere minutes.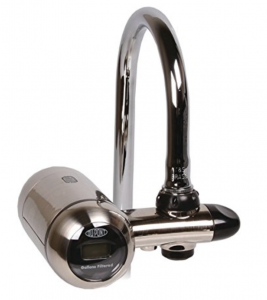 This is another faucet filter that offers excellent performance on the marketplace. This filter is designed with a premium aesthetic and high-quality materials. That being said, it is much larger than some of the other options available.
Performance
This particular filter is WQA certified to reduce lead, mercury, turbidity, asbestos, microbial cysts, cryptosporidium, giardia, and particulates class 1. Therefore, you can expect healthier and cleaner water. Along with this, it is designed to filter out the chlorine in order to better improve the taste. It does so through its included carbon filter. This unit also comes with a lot of unique and advantageous features including having an easy to read electronic display which showcases the total number of gallons it has cleaned to better and more accurately measure filter life. Along with this, it has a water flow selector which can be set for easy access to either filtered or unfiltered water.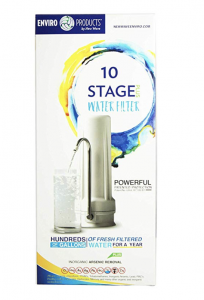 This is another option that you could choose from if you are looking for a faucet filter. This filter features a 10 stage filtration process.
Performance
This filter is capable of eliminating all kinds of contaminants including but not limited to chlorine, organic arsenic, mercury, lead, pesticides, and more. While this filter might not look impressive, the 10 stage filtration system can provide extremely clean and safe drinking water. The filter cartridge is made up of Anion Exchange Resin and it is capable of removing phosphate and sulfate anions which typically interfere with the removal of arsenic found in tap water.
How Much Does It Filter?
This filter is designed for each easily replaceable cartridge to filter out around 1,500 gallons of water or to last for a full year for an average family of 4.
Easy Installation
Like other faucet filters, this filter attaches to standard faucets in seconds which means no tools or specialists are required for installation.