Finding the right whole house water filter can be difficult due to the various options available in the marketplace. The Aquasana EQ-1000 is a whole house water filter that is said to last up to 10 years or for 1 million gallons. In this article, we will be going over some more about the Aquasana EQ-1000 and we will discuss whether or not it is worth your purchase.
This specific model specializes in the removal of chlorine. Aquasana claims and verifies through testing that it is capable of removing up to 97% of chlorine from the water supply. Along with chlorine, it is capable of removing many other contaminants including but not limited to organic chemicals, volatile organic compounds, and even heavy metals.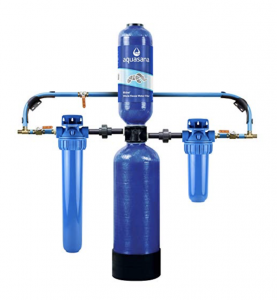 Buy Direct From Manufacturer and Save Big!
Aquasana EQ-1000 Review
Easy Maintenance
This whole house filtration system promises to be one of the easiest to maintain. It requires no draining or backflushing. All that you need to do to maintain it would be to replace pre and post-filters every 3 months for the best filtration results and to improve the flow rate.
Multi-Stage Filtration
The system is uniquely designed for up-flow technology through its dual tank design. This allows the water to experience increased contact throughout each stage of the filtration process. This whole house filtration system features a multi-stage filter breakdown which promises to deliver superior results to other filters. It pushes the water through various stages to filter different contaminants. First is stage one where the system removes sands and larger particles. The second stage involves filtering out water-soluble heavy metals, bacteria, chlorine, and more. The final stage is where the water passes through the activated carbon filter which is meant to filter out pesticides and other chemical compounds in the water.
What's To Like:
1. Low Maintenance Cost
Unlike some of the other systems that you might be considering, this one is designed to be as maintenance-free as possible. Having a system that is maintenance-free will not only save you money, but it can minimize the hassle associated with using it.
2. Warranty
Aquasana provides a very good 10-year warranty on the filtration system which should last the entire unit's lifespan. However, this is only provided if the system is installed by a professional.
3. Great Filtration
The dual-tank design and the multi-stage filtration process yields excellent results with filtration. It is an NSF Certified whole house filter that you can count on to deliver.
4. Large Capacity
This is a whole house filtration system with a 10-year lifespan or up to 1 million gallons of water. Therefore, you will be able to get a whole lot of filtration from the system. This means it can provide filtered water for bathing, drinking, cooking, and anything else that you would want.
5. Better Tasting Water
Because the system is capable of removing 97% of chlorine and other contaminants, it will provide you with cleaner and much better overall tasting water. This alone makes the filtration system worth it because it can improve the taste and odor of the water in your home.
What's Not To Like:
1. Expensive
While it offers great performance and long-lasting filtration, it is relatively expensive compared to the rest of the competition.
2. It's Large
This is a large filtration system that will end up taking up a lot of space. Therefore, you will need to have a place to house the filtration system. Not everyone will want to have such a big system taking up space in their homes.
Is It Worth It?
The EQ-1000 whole house filtration system by Aquasana is certainly worth buying if you are looking for one of the best performing filtration systems and you don't mind paying the expensive price. It delivers exceptional value for the money and it is a virtually maintenance-free filtration system that can make the water in your home safer, healthier, and better-tasting.